It has been a privilege and a great experience for me to serve as Chair of Limerick Civic Trust for the years 2009/2010.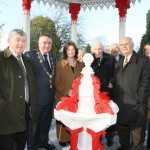 The restoration of the Richard Russell Fountain in The People's Park in Limerick is one of the projects I most enjoyed during my term of office.It stands for all to see in it's red, white, and gold. I am so happy that I had the honour of placing a time capsule in one of it's pillars during it's reconstruction by Eura Conservation.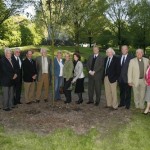 The planting of a tree in The People's Park, Pery Square, during the visit of the Norwegian Ambassador H.E. Mr. Oyvind Nordsletten, when he attended a reception in his honour, hosted by Limerick Civic Trust in The Georgian House.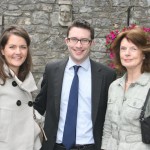 Clare Finane, Thomas Wallace O'Donnell and Gabrielle Wallace O'Donnell at the unveiling of the portrait of Denis Leonard, by Thomas Ryan RHA, in The Bishops' Palace, King's Island, Limerick.